Chairmans Antique Chair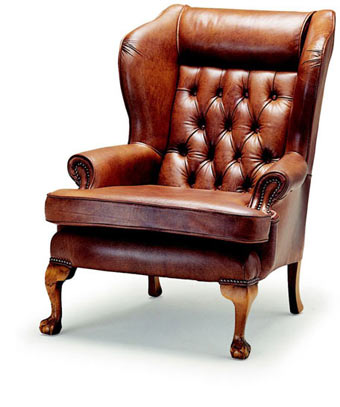 How to Order the Chairmans chair

With weekly deliveries worldwide, buy the original Chairmans antique chair today.
Simply call our sales team on +44 (0)1484 663294 or email info@wing-chairs.com with your questions.
Request Your Free Colour Brochure

For a free full colour brochure and up to five samples of high quality leathers simply visit our brochure request page.
Pricing
Prices vary based on shipping costs.
Please call us for details.
Options
The Chairmans chair is available in a wide selection of fabric and leather styles and colours. Please visit our fabric and leather swatch page for details.
Alternatively, should you require something to match your decor, ask about upholstering your chair with the fabric of your choice.
Product Description

The Chairmans antique chair has an imposing and elegant stance, boasting the typical Wing Chair shape and style with a hardwood frame and detailed legs, and full hide leather, which is complemented by the traditional deep buttoned back. Combining this formal design with a more contemporary touch, the Chairmans chair has a sumptuous cushioned base, overstuffed wings and a padded headrest, all adding to the comfort and relaxing element of this chair.
Key features of the Chairmans antique chair include:
Full hide leather
Hardwood frame
Hardwood feet
Overstuffed wings
Padded headrest
Cushioned base
Buttoned back
Hand studding
Need Something A Little Different?

Need this antique chair tailored to your requirements. Ask about our bespoke furniture customisation services.